Rania Charalambidou
Principal Dancer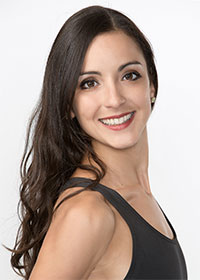 Rania Charalambidou is from Nicosia, Cyprus. She graduated Magnum Cum Laude with a BA in Dance Education and a Math minor from Marymount Manhattan College in New York City. She also trained at the Joffrey Ballet School and with Elena Kunikova at Steps on Broadway.
Rania has been a company member with multiple companies in the U.S.A. such as Sarasota Ballet of Florida, Columbia City Ballet, Ballet San Antonio and Boulder Ballet. She is now dancing with Montgomery Ballet. Rania has danced soloist and principal roles in classics such as Adult Clara and Arabian Pas De Deux in the Nutcracker, Princess Vasilissa in Firebird, Lead Bride in Dracula, Summer Fairy in Cinderella, Scheherazade in Scheherazade, Beauty Fairy in The Sleeping Beauty and many others. She also danced in contemporary pieces such as Interactive Version 1.0 by Lance Hardin and Amy Earnest, Robert North's Light Fandago, Matthew Bourne's Boutique, and D. Bombana's Schumann.
In 2009, Rania performed with the Asolo Repertory Theatre in Susan Stroman's Tony-Award winning musical Contact as Trouble.
Rania guest-performed with a number of companies such as San Angelo Ballet, San Antonio Metropolitan Ballet, Diesel | Fusion Dance Theater, Dance Cyprus, Amfithdromo Chorotheatro, Florida Ballet, Freespace Dance, at the Dance Platform Contemporary Dance Festival in Cyprus etc. She also performed in the 50th anniversary celebration of the independence of Cyprus in 2010 and was part of the cast performing "Galatea's Myths" for Pafos – European Capital of the Arts 2017.
Rania is the co-founder of 35°33° Dance Co in Cyprus. Outside of dance, Rania is the co-owner of Long Body Yoga.