Dionysios Mitsios
Principal Dancer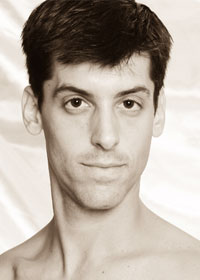 Dionysios Mitsios (Danny) was raised in Jacksonville, FL by Greek parents. He attended Jacksonville University (JU) where he graduated Magnum cum Laude with departmental honors in Dance and Magnum cum Laude in Computer Information Systems. While at JU he was awarded the Dance Management, Most Improved Dancer, and Dance Contribution Award. During college he also studied at Nutmeg Ballet Conservatory. At Nutmeg Ballet Conservatory, he had the opportunity to work with Moses Pendelton of Momix. His class at Nutmeg was used to choreograph Lunar Sea for Moses Pendelton, which is now touring for Momix. He was also awarded the Service Award and attended Nutmeg on scholarship.
Upon graduation he began performing professionally. He has been fortunate enough to perform with Florida Ballet, Charleston Ballet Theatre, HT Chen & Dancers, Busch Gardens, Ballet Revelle, Columbia City Ballet, Ballet San Antonio, Boulder Ballet and Montgomery Ballet. Danny has also been a guest performer with many organizations such Ovations Dance Repertory Company, Freespace Dance, Equilateral Theater, Connecticut Dance Theatre, San Antonio Metropolitan Ballet, Skien Cultural Center in Norway, and Yellowstone Ballet.
In addition to a dance career Danny is also co-owner of Long Body Yoga, TheGreatestWebAndGraphics.com, and 35° 33° Dance Company in Cyprus. He is also an active member of the United States Coast Guard Reserves.